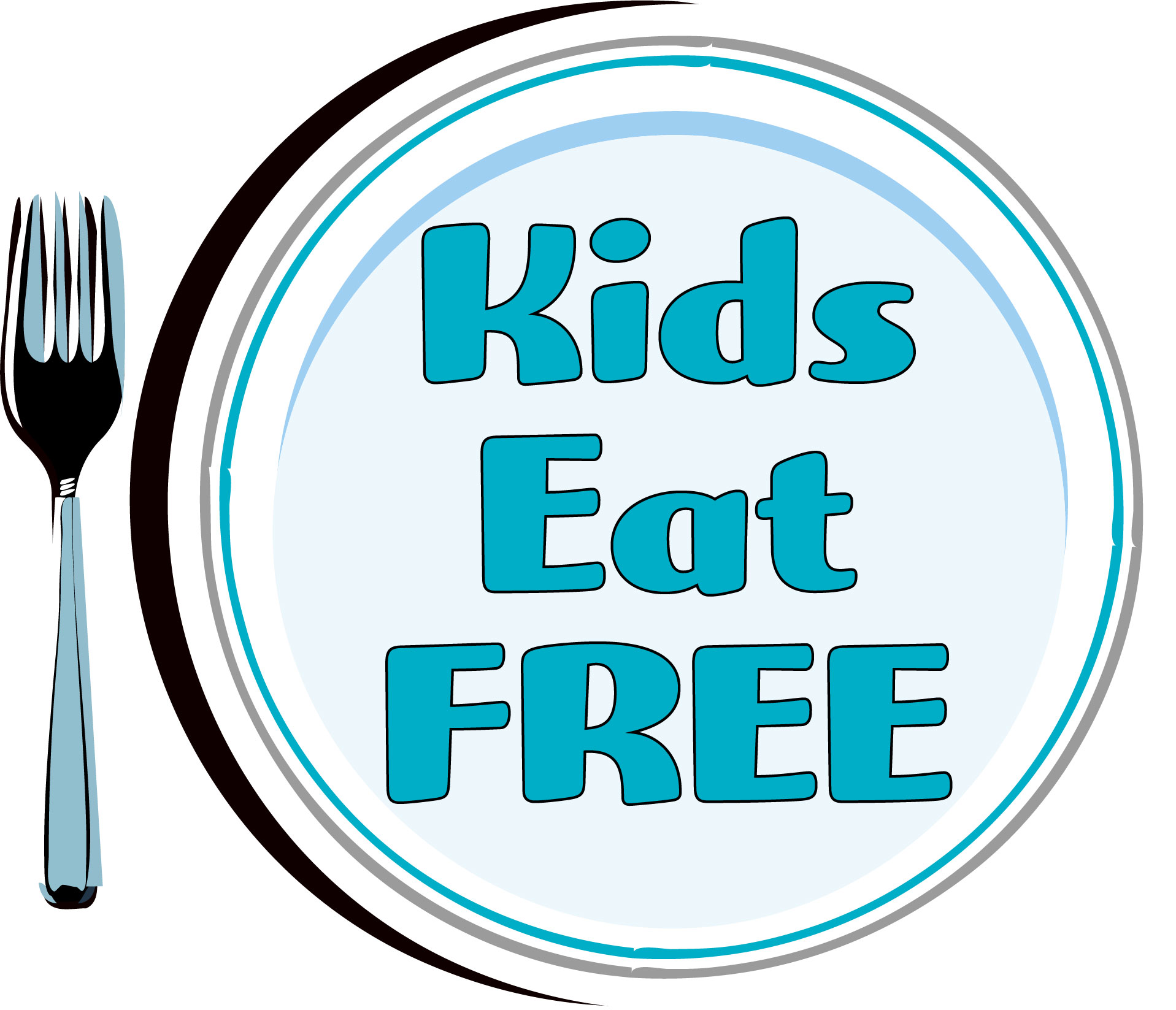 Are the kids hungry but maybe you don't feel like cooking, or maybe you just want someone else to clean up the mess this time!?
Here is our guide to restaurants in the area that offer free meals for kids! Most listed are for one day only but there are a few that have multiple days. If you know of a place that is not on our list, please let us know & we'll add it!
Please note that participation at any of these places is subject to change anytime. Be sure to call the restaurant ahead of time to ensure the deal hasn't changed. If you find a place listed below no longer participates, please let us know & we'll remove it! For your convenience, we've provided their phone numbers, location addresses & websites for more info.
Monday
Amedeo's Italian Restaurant – 3905 Western Blvd, Raleigh
Evening dinner hours, 10 & under
919-851-0473
Back Yard Burgers – 13250 Strickland Rd, Raleigh
5-8p
919-847-7098
The Big Easy (Downtown Raleigh location) – 222 Fayetteville St, Raleigh
All Day
919-832-6082
Café Capistrano – 8471 Garvey Dr, Raleigh
11a-2:30p & 5-9p
919-872-1127
El Dorado – 2811 Brentwood Rd, Raleigh
5-10p
919-872-8440
The Empanada Factory – 2010 S Main St #406, Wake Forest
All Day
984-235-4239
Flying Biscuit – 2016 Clark Ave, Raleigh (in Cameron Village)
All day, 12 & Under (Monday & Tuesday)
919-833-6924
IHOP – Locations & Days vary
4-9p
7471 Six Forks Rd, Raleigh, 919-847-4467
6707 Knightdale Blvd, Knightdale, 919-266-0418
1301 Kildaire Farm Rd, Cary, 919-469-1835
Mellow Mushroom – Multiple Locations
5p-close
601 W Peace St, Raleigh, 919-832-3499
2125 S Main St, Wake Forest, 919-556-8884
Pressed Sandwich House – 10630 Durant Rd #104, Raleigh
4-8p
984-269-5099
Real McCoy's – 3325 Rogers Rd, Wake Forest
4p-close
919-562-8368
San Jose Mex & Tequila Bar – 2 Locations, Days Vary
All day
11201 Galleria Ave, Raleigh, 919-435-6050
Torero's Authentic Mexican Cuisine – 3002 Leland Dr, Raleigh
All day (Sunday & Monday)
919-217-7883
Tuesday
Applebee's Grill & Bar – locations vary, call or visit website
4p-close, 12 & under
N Raleigh near Triangle Town Center, 919-872-2401
Raleigh inside beltline on Six Forks, 919-856-9030
Raleigh in Brier Creek, 919-544-9771
Wake Forest, 919-488-0101
Knightdale, 919-266-5939
Flying Biscuit – 2016 Clark Ave, Raleigh (in Cameron Village)
All day, 12 & Under (Monday & Tuesday)
919-833-6924
Gatehouse Tavern – 964 Gateway Commons Cir, Wake Forest
All Day
919-569-6745
IHOP – Locations & Days vary
4-9p
1313 Hillsborough St, Raleigh, 919-827-4497
1450 US Hwy 70 W, Garner, 919-661-2604
(4-10p) 3009 Capital Blvd, Raleigh, 919-875-8485
The Lost Cajun – 2 Locations
All day
10901 Forest Pines Dr, Raleigh, 919-200-4590
7901 Falls of Neuse Rd, Raleigh, 919-267-3126
Moe's Southwest Grill – Multiple Locations
Evening hours
280 Meeting St, Cary, 919-854-1111
127 Weston Pkwy, Cary, 919-678-8444
5020 Arco Street, Cary, 919-230-1720
6679 Falls of the Neuse Rd, 919-846-9274
4350 Lassiter at North Hills Ave, Raleigh, 919-355-5478
8111 Creedmoor Rd, Raleigh, 919-803-0542
4325 Glenwood Ave #2044, Raleigh, 919-235-4550
7850 Alexander Promenade PI, Raleigh, 919-957-9075
10760 Wakefield Commons Dr, Raleigh, 919-570-3222
168 Shenstone Blvd, Garner, 919-329-6179
Neomonde – 2 Locations
4p-close, 10 & under
10235 Chapel Hill Rd, Morrisville, 919-466-8100
3817 Beryl Rd, Raleigh, 919-828-1628
The Point at Glenwood – 1626 Glenwood Ave, Raleigh
All day, 12 & under
919-755-1007
Ruby Tuesday – Multiple Locations
5p-close
1260 N Main St, Fuquay Varina, 919-557-0341
6201 Capital Blvd, Raleigh, 919-876-9900
4411 New Bern Ave, Raleigh, 919-255-1801
Texas Roadhouse – 11440 Capital Blvd, Wake Forest
4-10p, plus Free Toy at Kid's Night
919-569-2119
Tobacco Road Sports Café & Brewery – 505 W Jones St, Raleigh
Evening hours
919-301-8793
Zaxby's - Locations & Days vary
5-8p (Tuesday & Wednesday)
8812 Harvest Oaks Dr, Raleigh, 919-847-8151
995 Durham Rd, Wake Forest, 919-435-0387
Wednesday
Burgerim – 11480 Capital Blvd #135, Wake Forest
All Day, 10 & Under
East Coast Wings & Grill – 12646 Capital Blvd #168, Wake Forest
All Day
984-377-3294
San Jose Mex & Tequila Bar – 2 Locations, Days Vary
All day (Wednesday)
5811 Poyner Village Pkwy, Raleigh, 919-790-1919
Skrimp Shack – 7224 GB Alford Hwy, Holly Springs
10:30a-9p
919-335-3924
TGI Fridays – 2 Locations
All day, 12 & under
1100 Timber Dr #E, Garner, 919-779-1935
4209 Wake Forest Rd, Raleigh, 919-872-5542
Zaxby's - Locations & Days vary
5-8p (Tuesday & Wednesday)
4150 Fayetteville Rd, Garner, 919-661-7772
6702 Knightdale Blvd, Knightdale 919-261-9995
Thursday
Café Buongiorno – 3607 Falls River, Raleigh
5-8p
919-896-7459
Jason's Deli – Multiple Locations
5-9p, Dine in only
8421 Brier Creek Pkwy, Raleigh, 919-572-9996
909 Spring Forest Rd, 919-855-9898
Rudy's – 780 W Williams St, Apex
5-8p (Magician performs 6-8p)
919-303-5061
Friday
IHOP – Locations & Days vary
4-9p
7471 Six Forks Rd, Raleigh, 919-847-4467
Saturday
IHOP – Locations & Days vary
4-9p
7471 Six Forks Rd, Raleigh, 919-847-4467
Papaya Chicken & Grill – 7909 Falls of Neuse Rd, Raleigh
All day, 6 & under
984-233-6263
Steak 'n Shake – 2 Locations/2 Days
All day (Saturday & Sunday)
2840 Millbrook Rd, Raleigh, 919-872-6669
5900 Duraleigh Rd, Raleigh, 919-809-7524
Sunday
Dickey's Barbecue Pit – Multiple Locations
All Day, 12 & Under
1102 Parkside Main St in Cary, 919-342-0212
6552 Glenwood Ave in Raleigh, 919-436-3995
El Tapatio in Wakefield – 13200 Falls of Neuse Rd, Raleigh
All Day
919-554-9676
Jersey Mike's – Multiple Locations
All day
701 Cary Towne Blvd, Cary, 919-461-8100
2055 Renaissance Park Pl, Cary, 919-650-3595
3490 Kildaire Farm Rd, Cary, 919-363-7827
957 High House Rd, Cary, 919-461-0660
922 US-64 Apex, 919-467-3900
3608 Davis Dr #100, Morrisville, 919-380-0289
200 W Peace St, Raleigh, 919-832-7972
The Mac House in Wakefield – 14460 New Falls of Neuse Rd #167, Raleigh
11a-8p
919-263-8116
Nantucket Grill & Bar – 1145 Falls River Ave, Raleigh
All day
919-870-1955
Player's Retreat – 105 Oberlin Rd, Raleigh
All day, 12 & Under
919-755-9589
Ragazzi's Italian Restaurant – 1514 Hwy 70 W, Garner
All day, 10 & under
919-772-9772
San Jose Mex & Tequila Bar – 2 Locations, Days Vary
All day (Sunday & Monday)
11201 Galleria Ave, Raleigh, 919-435-6050
Steak 'n Shake – 2 Locations/2 Days
All day (Saturday & Sunday)
2840 Millbrook Rd, Raleigh, 919-872-6669
5900 Duraleigh Rd, Raleigh, 919-809-7524
Torero's Authentic Mexican Cuisine – 3002 Leland Dr, Raleigh
All day (Sunday & Monday)
919-217-7883